Are you creating a life by design, a life worth living, or are you just making do? Is this your perfect lifestyle? Have you even thought about what a perfect lifestyle looks like to you?
Getting Started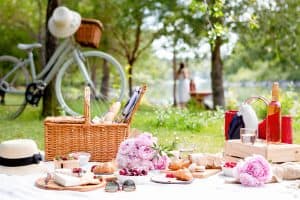 The first step in this journey is to look closely at your home – whether that's a castle or a room. Does it function well for you? Does it support you? Or does clutter weigh you down and trip you up? You'll want to really think about how you want to live in your space.
Exploring Options
Once you've done that the next step is to think about your perfect lifestyle. What do you really want? How do you really want to live? What steps could you take to start that process along?
Again, I've got a series of questions to help you with that process.
Removing Obstacles
Once you've thought about your perfect lifestyle, and you've evaluated your current way of living – please note the difference! – you'll see that some of the things you've accumulated along the path you've been living no longer work in your life. For example, we all accumulate too much. I've been thinking about de-cluttering and all the reasons why we collect and purchase things and I'm sharing some of those thoughts and tips with you.
Ok, so now you are left with a vision and only the things you feel would support you in your new life. Wow – exciting!
Creating a new plan
Finally we can make a plan and create the space that will help you succeed in your new lifestyle. That's where my skills and expertise as a decorator come in. Helping you create something special – a home that supports and cherishes and renews you while of course, being aesthetically pleasing. It's a tall order but I rise to the challenge!
Join me on the journey to creating a life by design – a life worth living.
Here are some recent Lifestyle blog posts:
Life Goals : Are you living your Perfect Life?
Does your home reflect and nurture you?
Relax and savor the moment Lifestyle    
Move or Stay? What should I do?
+