Is a Kitchen Renovation a good investment?
Will a kitchen renovation bring you the best return on your investment?
Everyone knows that kitchens and bathrooms sell homes. Is your kitchen up to date or is a kitchen renovation project something you would consider before putting your home on the market?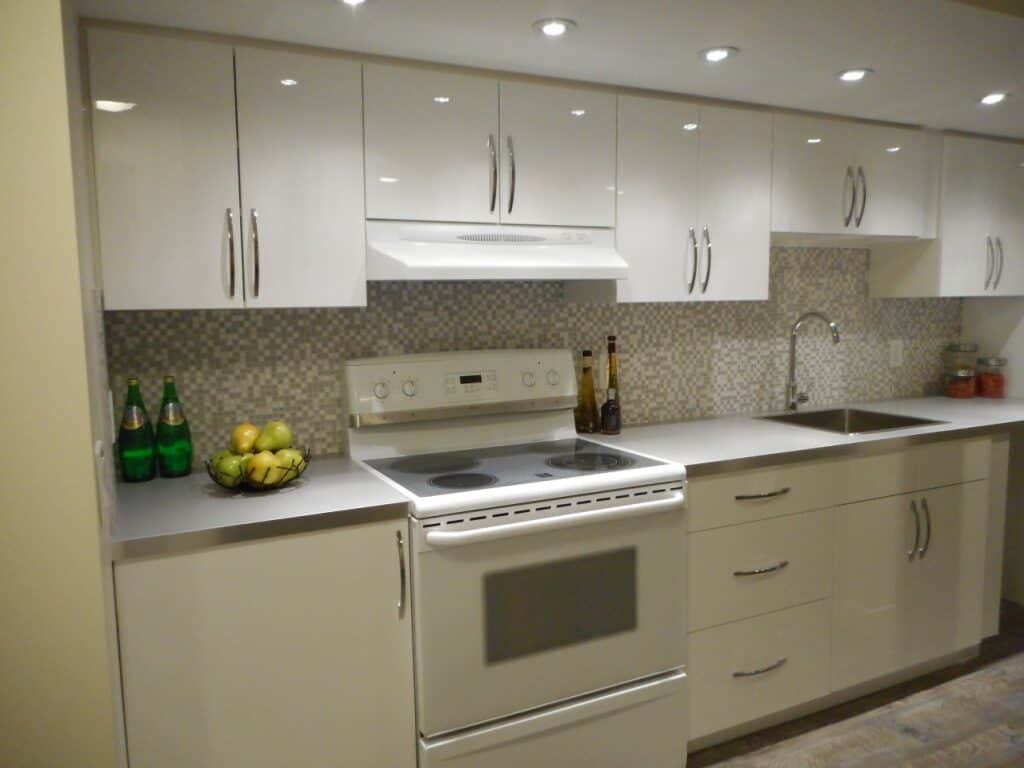 A recent report from the Appraisal Institute of Canada state that the top five renovations that provide the highest return on investment are the following:
Kitchen – renovation or update with quality of materials and workmanship consistent with the area
Bathroom – renovation or addition with quality of materials and workmanship consistent with the home and the area
Repainting Interior / Exterior – completed in tones with wide-ranging market appeal
Updating Décor – lighting and plumbing fixtures, counter tops, replacing worn flooring (vinyl or carpets) or refinishing hardwood floors
Decluttering – removing all excess items to showcase the features of your home
I've written about the findings of this study on www.clarissa.ca, my real estate website – you can check out that blog post here.
I get asked this question a lot so I thought I'd share my opinion and a few examples of kitchen renovations that I have either worked on or consulted on that have helped sell (or rent) homes fast.
Remove or improve?
In one project I assisted a client in purchasing a home with an existing basement apartment. It was old, smelly, and moldy.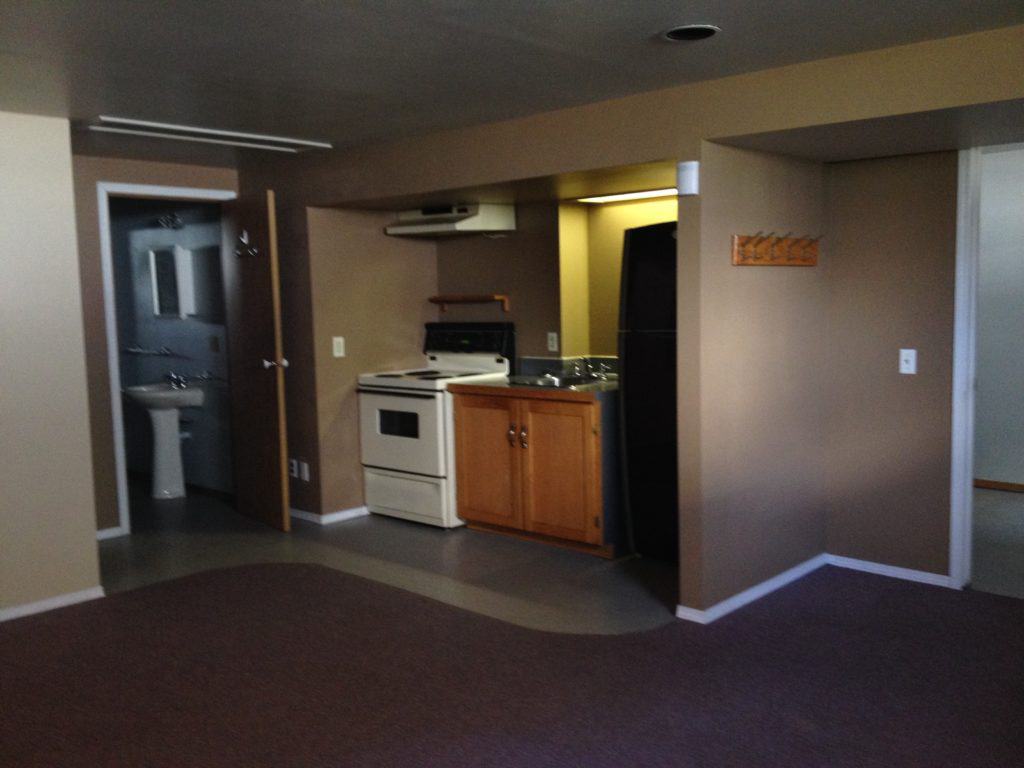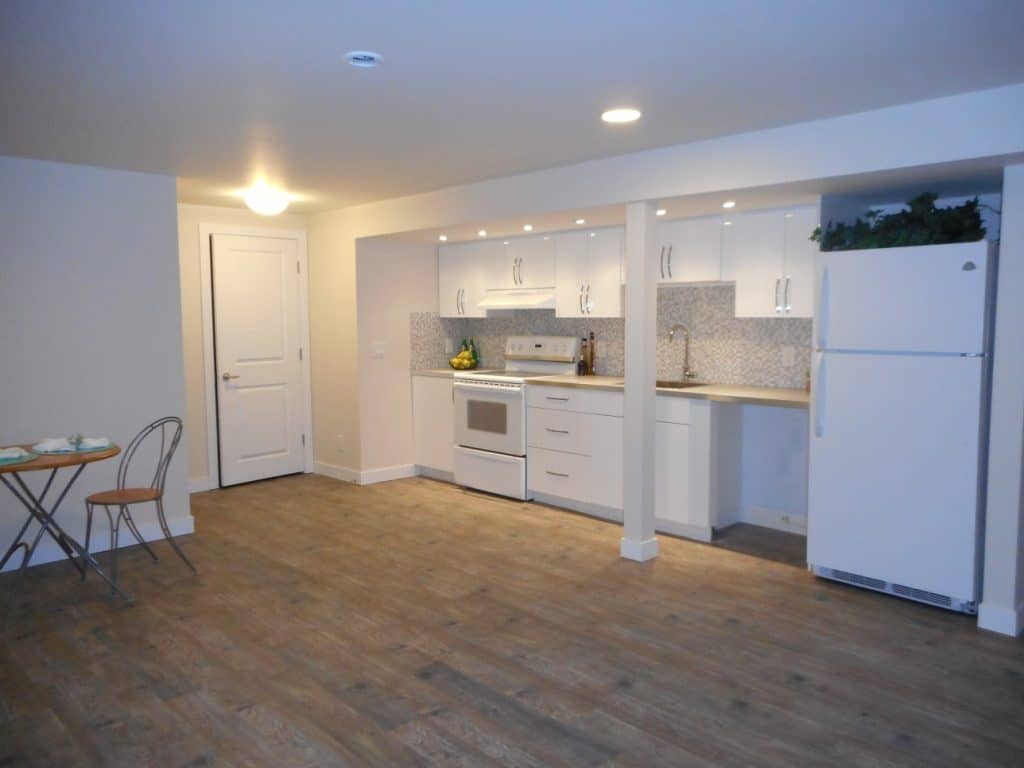 Decision made – the drywall behind the aging kitchen cabinets was moldy due to a slow leak from an upstairs toilet. Can you say gross? It was just water but the drywall needed to be ripped out and replaced once the pipes were repaired.
Kitchen renovation needed – oh yes!
Great news because it also meant that we could play around a tiny bit and move a door (not on a supporting wall) down which would increase the size of the kitchen so we could add in a dishwasher. Unfortunately, due to budget, we weren't able to remove the post. Playing around with the cabinetry ensured that all the cabinet doors and the dishwasher were not impacted by the post.
We took a dreary dismal smelly space and created a bright open plan kitchen space with updated appliances and a marble and glass backsplash that bounces light around. Potlights added to the lighting. Vinyl plank flooring worked in the basement because many basement floors (this one was no exception) are not completely even. Vinyl "floats" on the floor, bending to the slight changes in the floor.
Tenants & buyer's needs & wants in a kitchen renovation
When you are creating rental space the more options and upgrades you can provide a tenant the better quality tenant you will get – one who will appreciate the upgrades and look after your space better.
Keeping the footprint the same
In this case (photo is a few years old) I consulted with the home seller who had purchased the home to live in and make changes that would make it easier to sell. She wasn't planning on living in the home for long and wanted to maximize her return on investment. The home needed a major overhaul and update.
The original kitchen (below) was dark and very dated. The new owner removed 50 tall thin trees which helped with some of the light issues. She decided that a kitchen renovation was still necessary.
Due to cost issues, and the fact that most of the house needed updating we kept the same kitchen floorplan (footprint) and assisted the owner in choosing new cabinets, countertop, backsplash, flooring, and colours.
This house was updated in order to sell it. It sold quickly due to neutral, budget conscious updates and upgrades.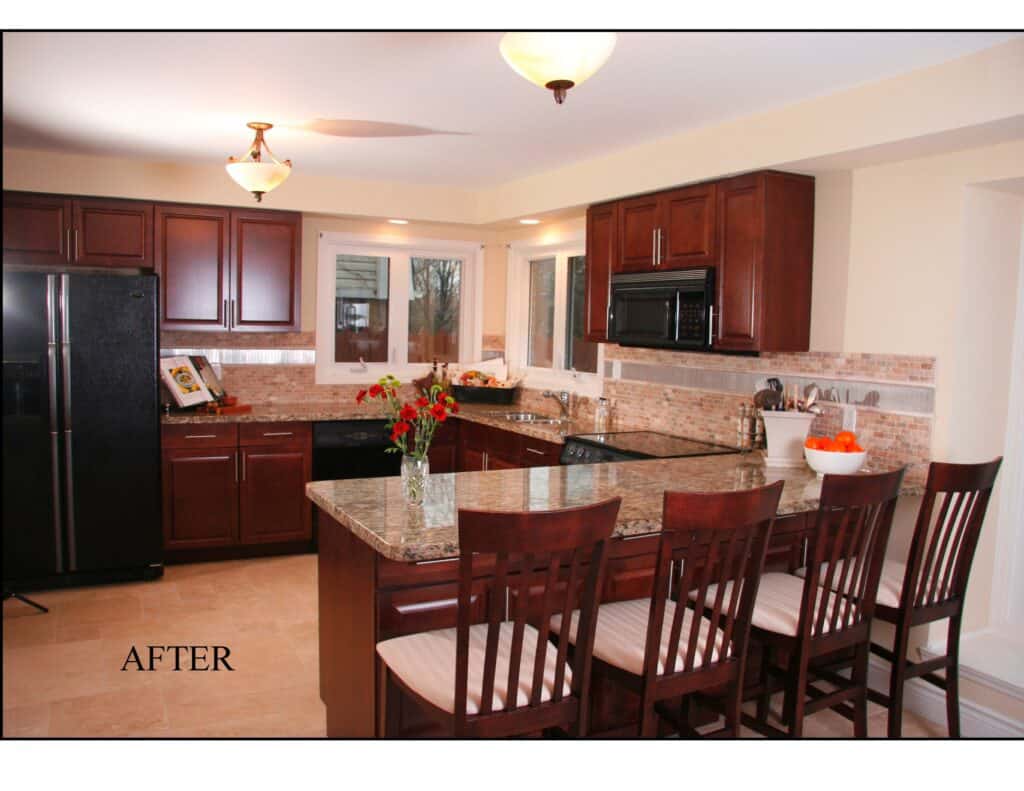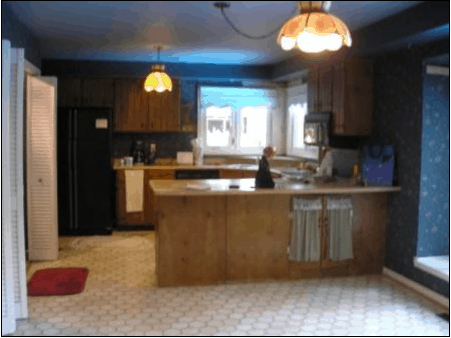 Other Alternatives for your kitchen renovation
Sometimes a budget is just too small to warrant a major overhaul. Alternatively, it might be that the cabinets are in "good enough" condition to keep. Painting cabinets and replacing a countertop or backsplash is a less expensive option. You can paint the kitchen cabinets yourself or you can get a professional in to do it. I've done both. It's not a difficult job but it is time consuming.
Painting cabinets
Every time I paint cabinets myself I swear that I won't do it again because it does take a long time to do. Problem is – I like painting. Really!
Here's a kitchen I recently updated where I personally painted the cabinets. We had a quartz countertop, new sink and faucet and backsplash installed as well as updating the flooring and lighting.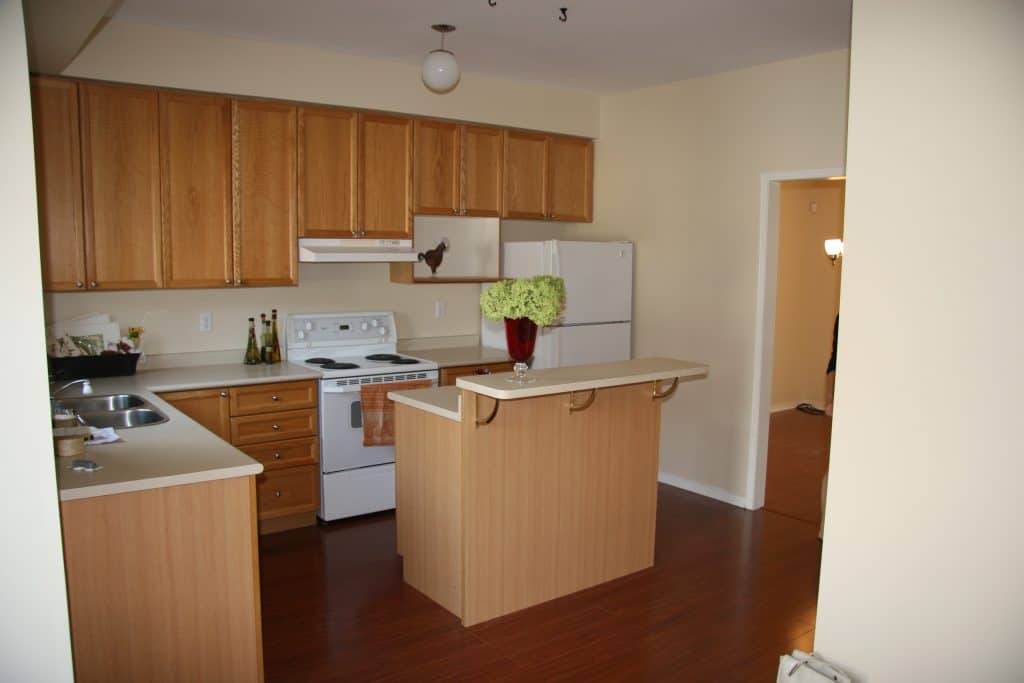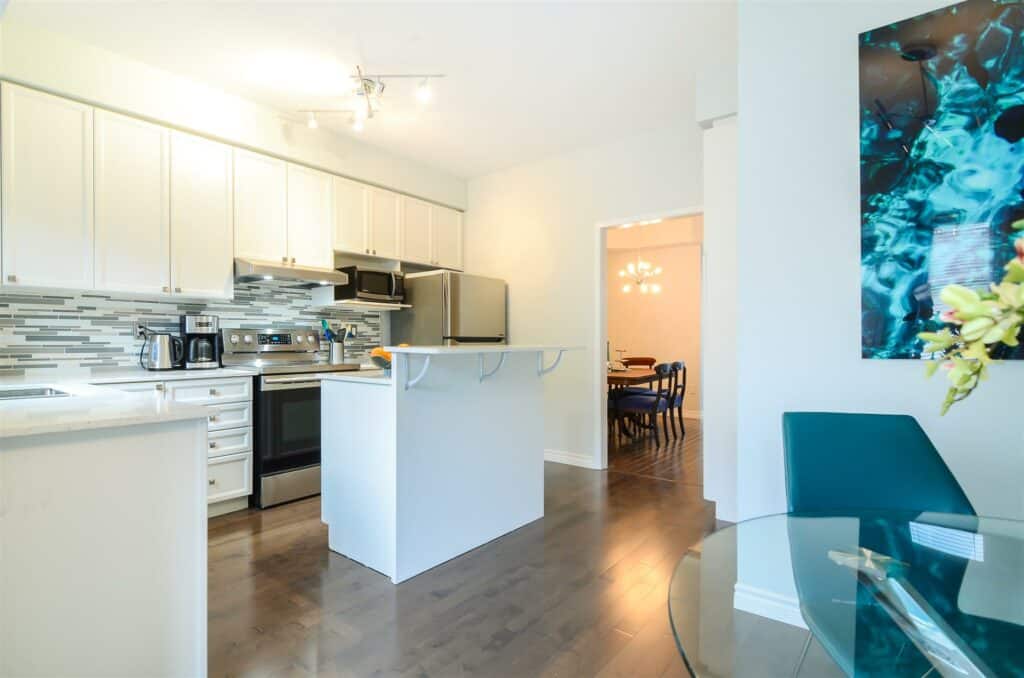 You've seen some examples of complete replacements due to the age and condition of the cabinets (and walls behind them). We've also looked at the option of just updating through paint and replacing key elements. But is it necessary?
Don't over improve!
One of the most important items to consider when renovating or updating to sell is the neighbourhood you are in. Don't over improve for the neighbourhood – you just won't get your money back.
Avoid trends
Recently I've seen kitchens that have been renovating for selling that include some trendy items like barn doors, shiplap, black window frames, specific cabinet colours, and encaustic cement tiles (highly patterned).
Be very careful – the hard finishes need to last for at least 10 years. Trends tend to have a life span of 2-4 years. Update with trends in the form of accessories or soft furnishings – items that can change. Wallpaper provides a jolt of color but is easily removed.
De-cluttering and cleaning is the fastest, easiest way to show off any kitchen.
I hope this gives you some food for thought (couldn't resist as we are talking kitchens!) and will help you with your next kitchen renovation project.
If you'd like to read about a kitchen renovation I did for a busy cook you can read about it HERE.
Click HERE for a report by the Appraisal Institute of Canada on what return on investment you'd get with a renovated kitchen.