Renovation Tips for Basements
Renovation Tips for Basements
There are a few key renovation tips or items to consider when finishing or renovating a basement. When I'm working with a client to design a basement I first ask them about their needs. It's crucial not to skip this first step as it's key to ensuring that the space works for a family, both now and going forward.
Functionality
Consider function – what will you be doing in the space?
How do you exit and enter the space? Is there a separate entrance?
Do you need to add a bedroom ? Can you add in an egress window for safety?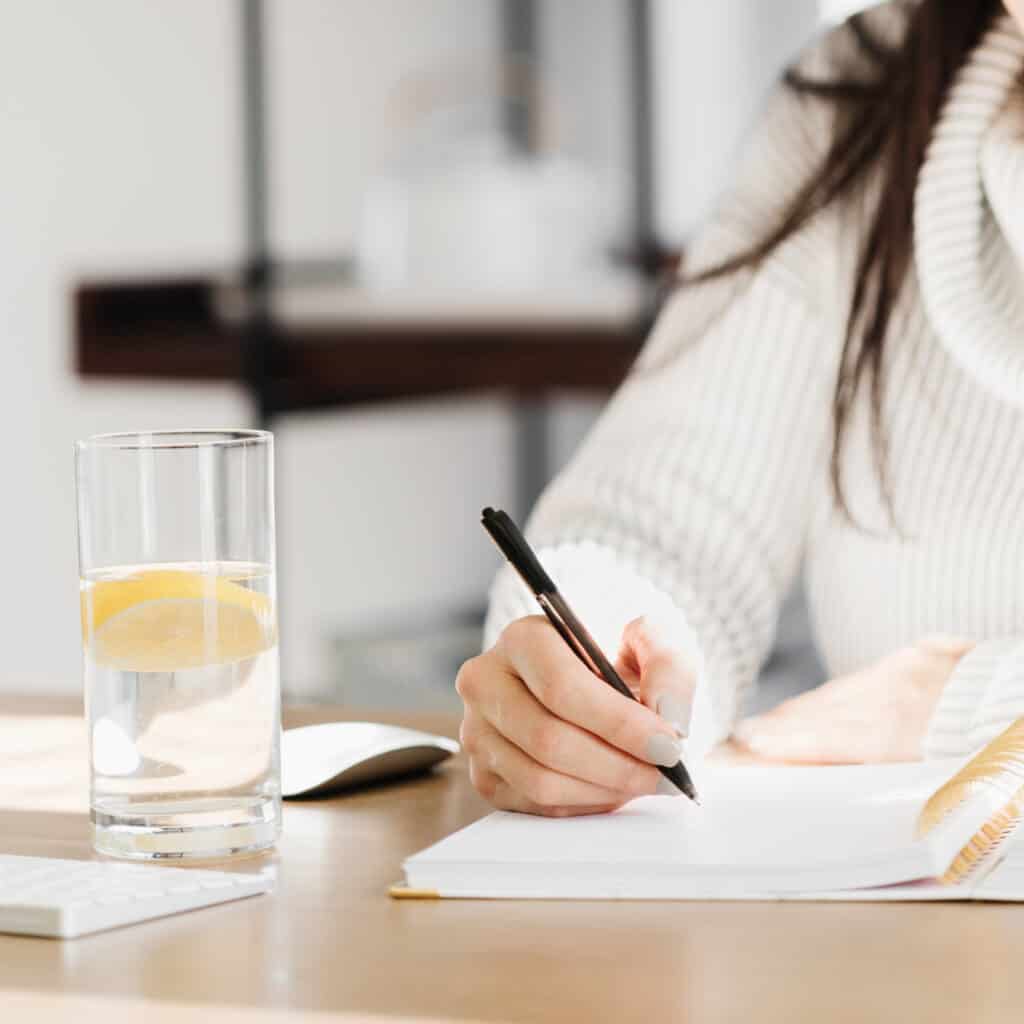 Do you need a bathroom – can the shower be easily vented outside?
Will laundry be done downstairs and can the dryer be easily vented outside?
Will the space be used for family use or as a rental unit? Are you allowed to have a basement apartment in your municipality? If yes, there will be safety requirements you'll need to meet.
Will you be watching TV or video games?
How much storage space do you need?
Do you need a home office or craft or workshop space? Can spaces do double duty?
Once you've determined all the options and variations you want to have in the space we can then start putting together a plan that looks at the following:
Electrical needs
One of the main renovation tips to consider upfront is your electrical needs. How you lay out and design your space dictates your electrical needs. Installing an electric or gas fireplace, hanging a wall mount TV, or installing a surround system will all dictate where you need electrical outlets.
Laundry, bathroom, and basement kitchens will also have electrical needs. You'll want to bring an electrician in at any early stage to evaluate the space.
If you are creating a basement bathroom you might want to include under floor heating. This means you can't use tiny mosiac floor tiles but you can have warmth underfoot. Check the size of your bathroom as very small bathrooms are difficult to add underfloor heating to.
Lighting
Lighting – again, the function of each section of a basement will dictate your lighting needs. A home office requires dedicated lighting near a computer, especially if your home office space is not near a large enough window.
Do you need a lighting plan? Layered lighting for detail work such as sewing or woodworking, mood lighting for a movie.
Windows
New home builders tend to build teeny tiny windows. Unless you live in a Condominium complex (HOA) where you are not allowed to make exterior changes consider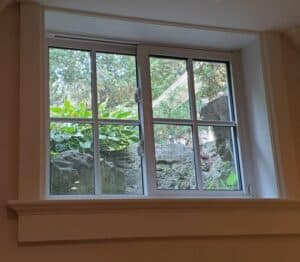 adding larger windows. You can dig down to include a window well. If you plan on having a bedroom in the basement include as large a window as possible for egress, light, and ventilation purposes. You'll likely need a permit so you'll need to check your local municipality.
There's a great article HERE by a Home Inspector discussing Ontario and Canadian National Building Codes relating to basement bedrooms.
Comfort
Another renovation tip is to ensure you focus on comfort.
You can add in comfort with extra insulation on the exterior walls and sound insulation in the ceiling. Excess noise heard throughout the house does not add to the comfort of those relaxing in the rooms above!
Upgraded underpad under a thick carpet will keep the area feeling warm underfoot.
If you are using hardwood you can add Dricore (www.dricore.com) as a subfloor to ensure that the wood is elevated in case of flooding. It also adds to insulate the floor. It's available in most big box hardware stores.
If you have a major slope in the floor for drainage you might need to use vinyl flooring – either in plank, tile, or sheet form. These days there are lots of options, many of which are fashionable.
The build
You can see that we aren't even at the framing or decorating stage yet. It's imperative to take care of the envelope of the space before considering how it's going to look. Maybe you've been speaking with a contractor by this stage and have obtained permits (if necessary in your municipality and with the complexity of your project). Choose your contractor wisely and settle in and watch the space unfold.
The process
This project was completed for a home that was going on the market. You can view more information about the project HERE.
To see another basement project you can click HERE.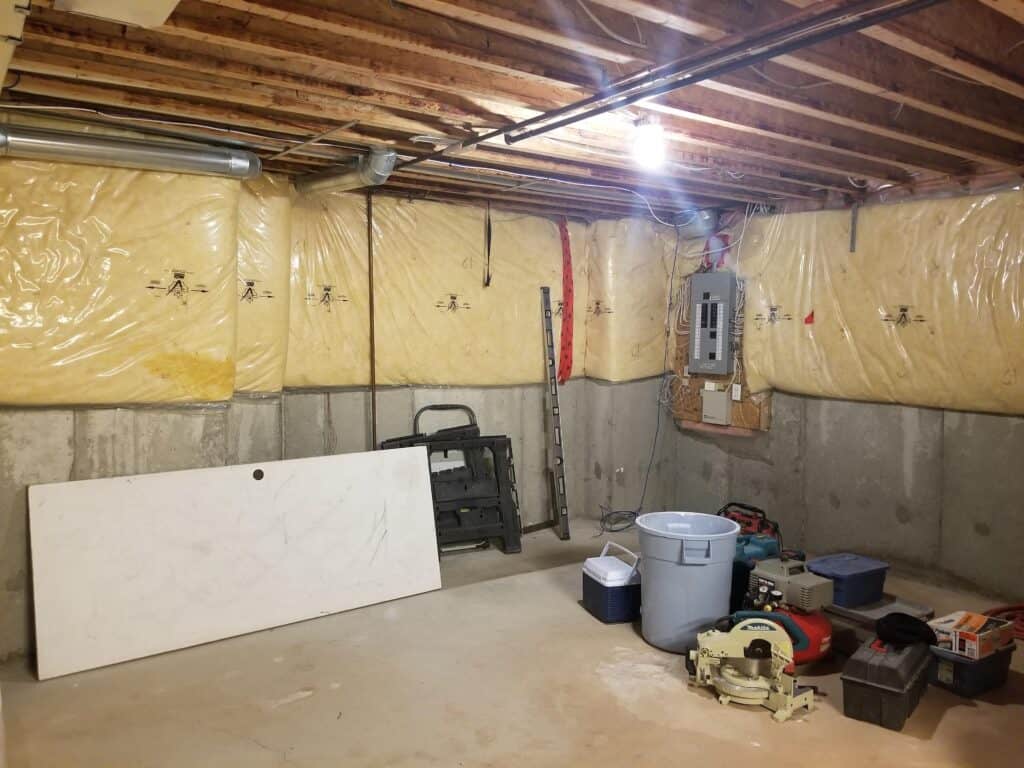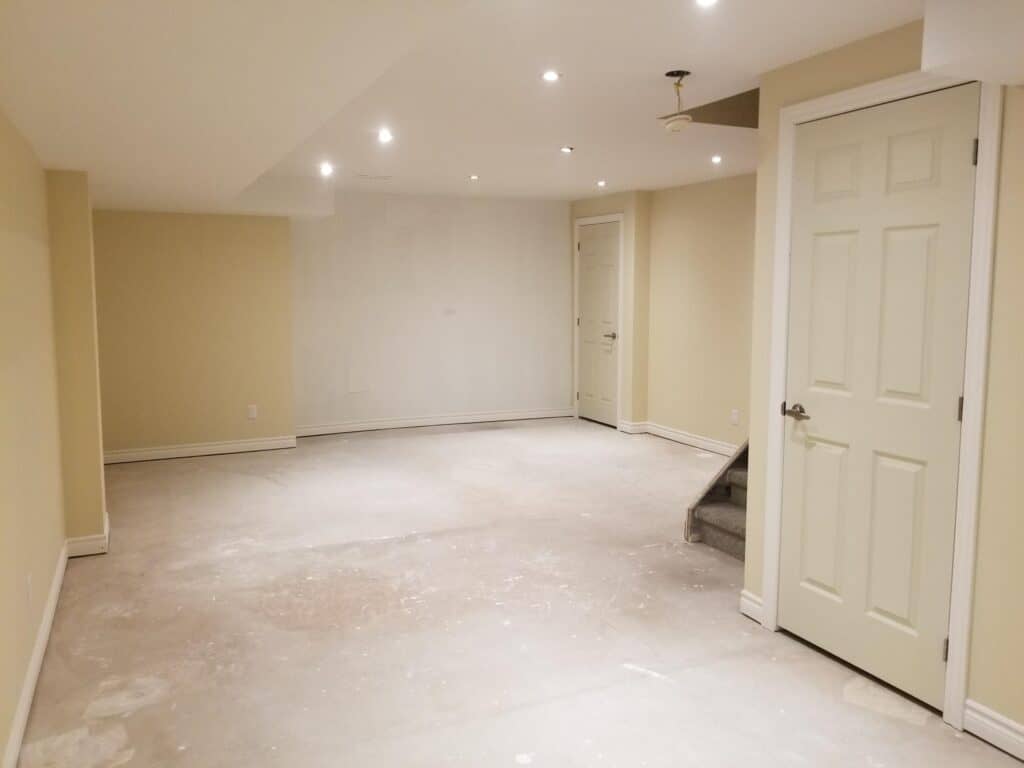 Renovation tip 6: decorating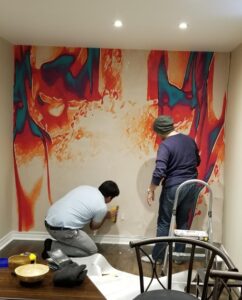 Ok, build complete – now you're ready!
Basements are wonderful opportunities to add in personality and fun! You can use wallpaper, murals, chalkboard walls, and other more eclectic forms than you would normally use in your formal, more public spaces.
You can choose more adventurous carpet colours than you'd likely use upstairs. Consider layering flooring (wood flooring with a rug on top) for extra comfort.
Comfortable furniture for relaxing, lots of accent pillows, warm throws, fun artwork will create a space you won't want to leave!
Pass the popcorn!